It's gonna be alright.
I have a few papers to write, a few finals, and then school is overrrr!
And I'll be moving into my new apartment, and working 30ish hours a week.
I declared my major. Advertising. But guess what? I have to wait until
next winter semester
to find out if I can actually get into the program...
And I keep thinking about this rude girl in my ward that got into the advertising program and then I feel really weary of doing it...but we'll see.
Sometimes I feel like I'm going to be in school forever.
I still have no idea what I actually want to DO with my life. I just know that:
I hate--writing research papers, math, physical science and all that it entails, hiking, competitive sports, and being outdoorsy.
I love--singing, writing, making music, history, grammar, vocabulary, language in general, customer service, watching movies, being creative, being loud, dancing badly, envisioning myself as a rockstar, and dreaming big.
So...I just want to be able to do what I want and not worry about what classes to take, or what to major in...I just want everything to fall into place...ha.
Basically...my life is a mystery.
Maybe I'll end up in the creative branch of some advertising agency. Maybe I'll write and shoot for Time. Maybe I'll be a world-touring musician. Maybe I'll write songs for country stars or for the church. Maybe I'll teach English or creative writing to high school students. Maybe I'll be a stay-at-home mom that doesn't need to bring in a supplementary income and I'll have so much fun making my kids take dance classes and play piano.
Who knows.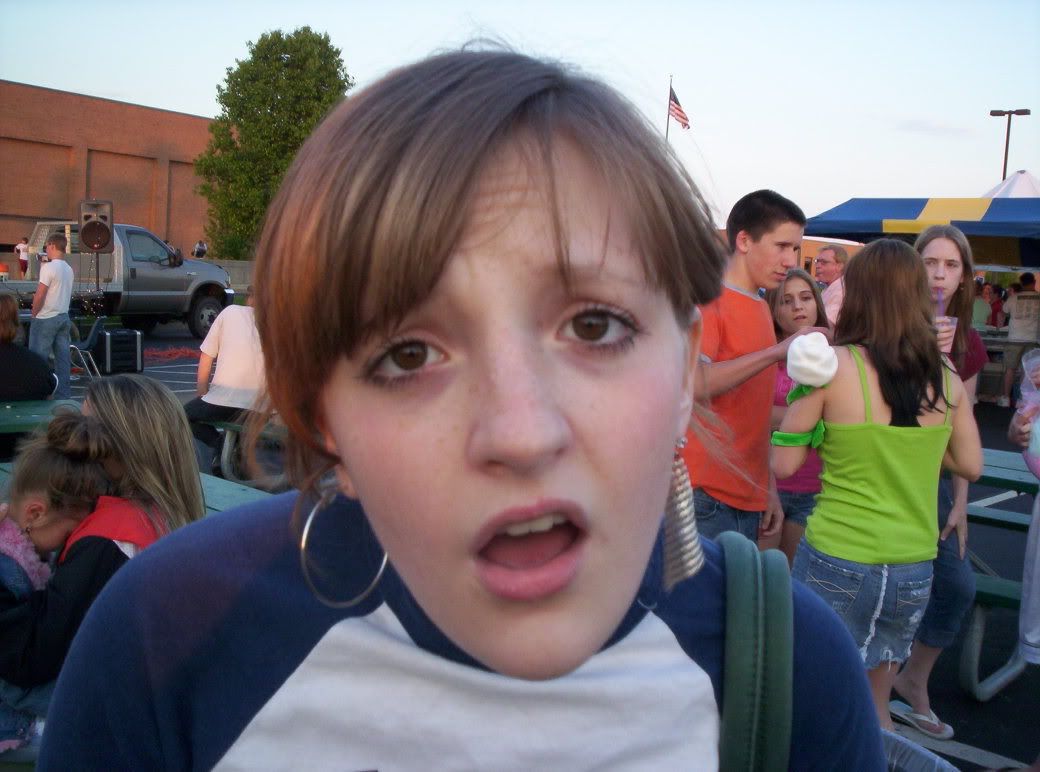 (If you're wondering...this is what I looked like...six years ago? Life moves FAST.)
I have learned something about faith recently. Over General Conference weekend, something clicked in my brain. I was listening to the speakers saying that our prayers are so often answered by others. That maybe the words of a family member or boss or church leader could answer a question we've had. I began to understand that it doesn't really matter if, while we're on our knees praying, we don't hear some Val Kilmer God-like voice telling us explicit answers. It doesn't matter if we don't feel some overwhelming rush of clarity when we're praying about a confusing thing. Because if we pray WITH FAITH, God will hear it. He knows us! He loves us and knows us. Better than anyone can. And when we come to him asking for something, or with questions, he's not going to ignore us. He's going to put people or certain trials/experiences in our path that will give us understanding.
I used to get discouraged with prayer because I thought that if I didn't feel something right away, it meant that I was doing it wrong, or that God was withholding my answers until later. Until I was more spiritual and praying better or something. I used to feel like my prayers weren't good enough or that I had to be doing much more in order to be qualified for answers and feelings of peace. But I think I understand now.
Faith means believing that things will work out. It means asking for something, praying about something, and then hoping and believing that God will provide.
Now I feel like I don't have to worry so much.
And that's good.